Farrell keeps rolling, takes G2 Rachel Alexandra S.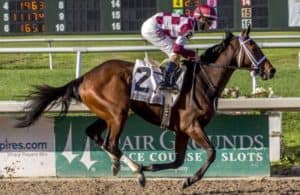 Malibu Moon's stellar 3-year-old filly Farrell was as good as ever in Saturday's $200,000 Rachel Alexandra S. (G2) at Fair Grounds, bounding to a 3 1/2-length victory while simultaneously tallying her third straight stakes win.
Away in good order from post 2, Farrell went to the lead despite being under a hold from regular rider Channing Hill. After a half-mile in :47.32 seconds, the dark bay was up by four lengths. Around the turn, Valadorna narrowed the gap to less than a length, but Farrell opened up again in the stretch, with the outcome a certainty in the final furlong (VIDEO).
"She's really versatile, so I just let her have her way," Hill said. "She did everything so well and settled really well on the backside, doing it all on her own. Down the lane I got after her a little bit and she went on with it and did it professionally. This filly is the real deal."
"The way she's running she should be one of the top choices (in the Kentucky Oaks), but there are a few more races to go," trainer Wayne Catalano added. "She was moving pretty good and I was happy when (Hill) said that she settled for him on the backside. Speed is always dangerous and pace makes the races and today was our race."
Owned by her breeder Coffee Pot Stables, Farrell also has victories in the Golden Rod S. (G2) at Churhchill Downs at two and Silverbulletday S. at Fair Grounds last month. The filly, who is a half-sister to Grade 1 winners Carpe Diem and J. B.'s Thunder, is 4-0-1 in six starts, with earnings of $361,357.
Farrell, along with the 3-year-old colt Gormley, could provide Malibu Moon with a formidable punch for this year's Kentucky Oaks (G1) and Kentucky Derby (G1), respectively. They are two of the six stakes horses this year for Malibu Moon, who once again is in the top 10 on the General Sire list.