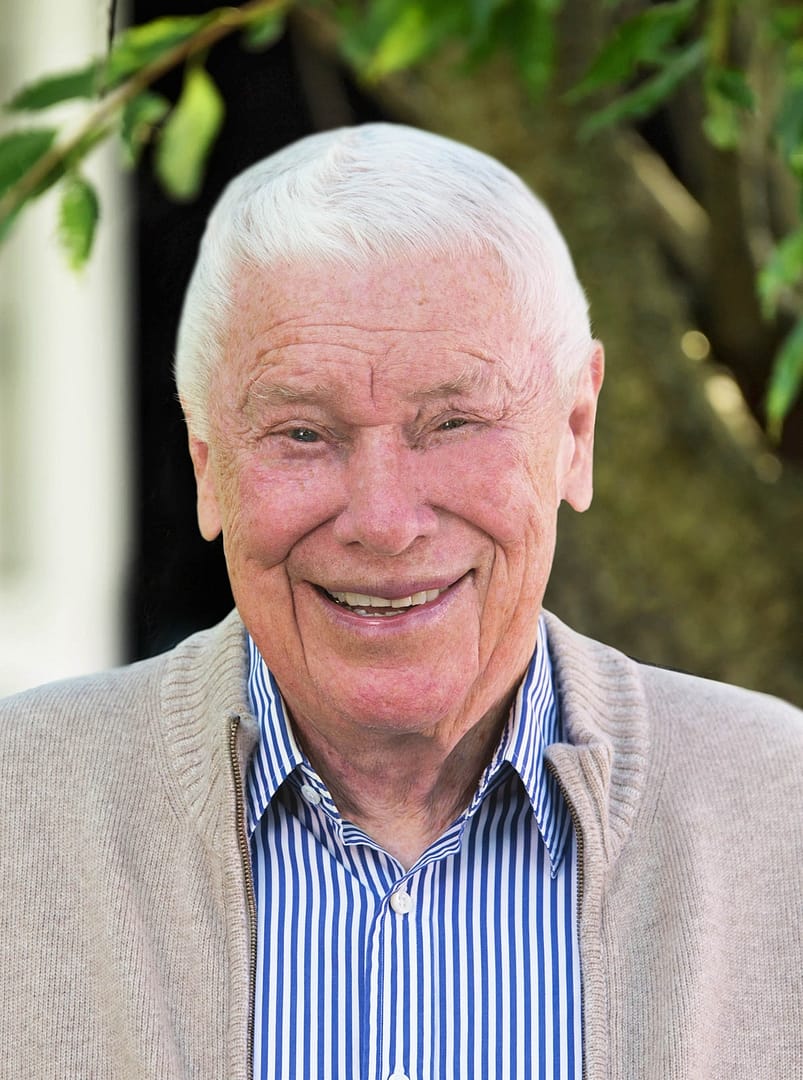 B. Wayne Hughes
Founder
The late B. Wayne Hughes (1933-2021) was one of the sport's most influential figures of the 21st century, with wide-ranging contributions that will forever impact Thoroughbred breeding and racing. He purchased Spendthrift in 2004 and quickly restored the historic brand and its land before returning Spendthrift as a viable commercial breeding operation. Among his many accomplishments, Hughes revolutionized the business relationship between stallion owner and mare owner through ground-breaking programs, most notably "Share The Upside" which he designed to bonus the breeder with a vested interest in a stallion. Champion sire Into Mischief was the inaugural stallion Hughes offered through Share The Upside. Spendthrift's slogan became "The Breeders' Farm" under Hughes, and he operated with the motto that 'breeders are the backbone of our industry'. Hughes campaigned six champion racehorses led by 2020 Horse of the Year Authentic, who he offered to the public in the form of equity-based microshares through MyRacehorse.com, and his beloved four-time Eclipse Award winner Beholder.
+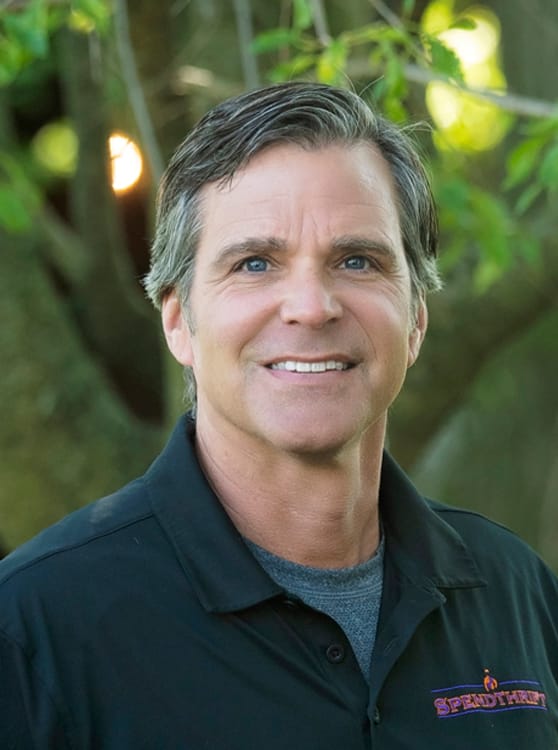 Eric Gustavson
Owner
Eric came to Spendthrift with the 2004 purchase of the farm by owner B. Wayne Hughes. He has served as marketing director and president before taking over as owner. Eric has greatly enjoyed being a part of an extraordinary team, which has re-grown the farm into international prominence, and he loves the "quirkiness" of the industry and all the characters one encounters along the way.
Favorite Racing Memory: Beholder winning the 2015 Pacific Classic.
+
Ned Toffey
General Manager
Ned has been the General Manager at Spendthrift Farm since Wayne Hughes set up shop here in 2004. He graduated from the University of Massachusetts at Amherst, with a degree in Sport Management, where he also lettered in football. Ned is a lifelong fan of horses and racing and started work in the breeding industry in New York State. Working at Kinderhill Farm and then as Farm Manager at Prantlack Farm, he and his wife Katie then relocated to Lexington. After a stint at Brookdale Farm in Versailles he held the position of Broodmare Manager at Dixiana Farm and at Three Chimneys Farm, prior to assuming his current position at Spendthrift. Ned is a past board member of Thoroughbred Charities of America and a current board member of the Jockey and Equestrian Initiative and the Gluck Equine Research Foundation, both at the University of Kentucky. Katie and Ned are the parents of four children; Matthew, Megan, Daniel and Annie.
Favorite Racing Memory: My first trip to Saratoga with my father in 1974. Beholder on the far turn of her Pacific Classic win wasn't bad either.
+
Mark Toothaker
Stallion Sales Manager
Mark is a native of Van Buren, Arkansas and attended Louisiana Tech for their Equine Program. He began his career working on the racetrack for trainers including Wayne Lukas, Joe Cantey, and Gerald Romero as well as training horses on his own. Mark then went into the military and served in the Army with the 10th Mountain Division in Fort Drum, NY. From there, he and his wife moved back to Arkansas and bought a farm to begin his career in the breeding and stallion industry.
In 2004, he moved to Kentucky to run Liberty Farm in Midway for longtime breeder Allen Poindexter. Over the next few years, Mark worked as a consignor and sold a few Breeders' Cup winners – including Mile-G1 champ Kip Deville and Juvenile Fillies-G1 champ Stardom Bound – before joining Spendthrift in 2012.
Favorite Race Memory: Sonny's Halo – he won the Kentucky Derby, Arkansas Derby, and Rebel Handicap… got me hooked on horse racing.
+
Des Dempsey
Stallion Sales
Des was born and raised in Ireland. With 35 years of involvement in the Thoroughbred Industry he has worked for many farms including Airlie Farm, Irish National Stud, Gainesway Farm, Cambridge Stud, Shadwell Farm, and Spendthrift Farm (both previous and current ownership). He has experienced many aspects of the equine business. From raising, breeding, managing, buying and selling, mating selection, and season sales, he strives for excellence and great customer service.
Best racing memory: Many numerous memories including Nijinsky, El Grand Senior, Sadlers Wells, Shergar, Goldencents and Beholder to name a few.
+
Brian Lyle
Stallion Sales
A native of Van Buren, Arkansas, I started in the Thoroughbred Business as an intern at Taylor Made in 1997 and was promoted to assistant yearling manager within 6 months of the 18 month internship. After 2.5 years at Taylor Made, I was hired at Rood and Riddle in the surgery department where I continued my learning for 5.5 years, from there I was hired by Chesapeake Farm to be Head of Sales and Client Relations for 3 years, before being hired by Millennium Farm as Stallion Nominations and Commercial Sales Manager where I remained for 6 years. I was hired by Spendthrift as a Stallion Nominations Salesman in August 2014.
Favorite Racing Memory: Being part of the team of 2007 Kentucky Derby Street Sense.
+
Wayne Howard
Stallion Manager
Wayne a native of Falmouth Cornwall England and is a proud Cornishman. A graduate of Cannington College Somerset and the National Stud Newmarket, Wayne started his career working for Simon Wingfield Digby Sandley Stud, Bob McCreery Stowell Hill Stud, and David Powell. In 1996 he moved to Lexington and began working for Gainsborough Farm then left and we to Castleton Lyons until 2007 when he joined the team at Spendthrift.
Favorite Racehorse: Further Flight – he was a gelding I cared for during his off time for many years and a horse whose racing career spanned 10 years 70 races 24 wins. He won the G2 Jockey Gold cup 5 times in consecutive years, he was an amazing distant horse.
+
Daniel Toffey
Stallion Sales
+
Alex Macias
Asst. Stallion Manager
Alex is a native of Tamaulipas, Mexico and moved to Kentucky in 2007. He started working with horses as a young child with his grandpa and continues his passion here at Spendthrift.
Favorite Racing Memory: Beholder vs. Songbird – that was the best!
+
Alicia Burberry
Stallion Booking
A native of Bourbon County, Alicia grew up on a farm and around the racetrack. She attended Midway College where she was a member of the Western and English Equestrian Team and graduated with a degree in Equine Management. Alicia worked weekends and nights at Payson Stud during High School and College then went on to manage a small breeding operation for 10 years. She then worked at Rood and Riddle Equine Hospital for 5 years. In 2013 Alicia joined the Spendthrift Team.
Favorite Racing Memory: When my own horse won at Keeneland in 2013 at the Fall Meet and again at the 2014 Spring Meet.
+
Taylor Rhoads
Stallion Booking
Taylor is a Michigan native who grew up riding hunter/jumpers in Metro Detroit. She attended college at Michigan State University where she graduated with a bachelor's degree in Animal Science with a concentration in Equine Management in 2013. Following college, she did both the breeding and sales prep sessions of the Kentucky Equine Management Internship. Taylor continued as an employee at Calumet Farm following her internship, where she gained experience in the yearling, broodmare, and stallion office divisions. She then went on to work as a broodmare foreman at WinStar Farm for four years prior to her current position at Spendthrift Farm.
+
Aimee Compton
Broodmare Manager
Aimee grew up in Indiana and received her bachelor's degree at Purdue University. After graduating she went to work in equine growth and nutrition at Kansas State University until 1994 when she moved to Kentucky. She began working at Dixiana Farm, becoming the broodmare manager there in 1997. She came to Spendthrift when the former manager of Dixiana bought the farm in 2000, and then remained as broodmare manager under Ned Toffey when Mr. Hughes took over ownership of Spendthrift in 2006.
Favorite Racing Memory: Watching the Triple Crown races with my father every year growing up.
+
Paco Rangel
Asst. Broodmare Manager
Francisco J. Rangel Horta is a native of Mexico that has been around horses all his life. It was not until 1990 that he started working with Thoroughbred horses at the race track in California. He moved to Kentucky in the year 2000 when he started working full time on a horse farm. His passion and love for horses has always kept him motivated to continue learning. He recently, in August of this year, joined our Spendthrift family as the Assistant Brood Mare Manager after working for more than 10 years on Siena Farm. Francisco is happy to have the opportunity to keep learning about thoroughbreds and to be part of this amazing team, hoping he can continue collaborating and helping to maintain this farm at its best.
Paco's Favorite Racing Memory: When American Pharoah won the triple crown.
+
Christi Conner
Controller
Christi is a native of Lexington and a graduate of the University of Kentucky. Since 2007, she has combined her love of accounting and equine as the Controller for Spendthrift Farm. She and her husband have 3 children.
Favorite Race Memory: Beholder turning the 2015 Pacific Classic into an "exercise gallop."
+
Faith McGuire
Assistant Controller
+
Joel Cunningham
Marketing & Communications Director
Joel joined Spendthrift in 2018 with over 15 years of industry experience in marketing and communications. He began his career in racing administration, working at Fair Grounds Race Course in New Orleans and Churchill Downs Inc. in Louisville. Joel transitioned to the breeding side of the industry in 2006, going to work for the Florida Thoroughbred Breeders' & Owners' Assn. in Ocala. He started specializing in stallion & farm marketing a year later, and spent the next decade working with many of the Thoroughbred industry's biggest brands – including Spendthrift – before joining the team full time. Joel is driven daily by his passion for the Thoroughbred industry.
Favorite Racing Memory: Generally speaking, spending time at the track with my dad is how I fell in love with the game. Specifically, the moment I'll cherish forever was experiencing Authentic's 2020 Kentucky Derby victory and seeing Mr. Hughes win the sport's most coveted race after 50 years of racehorse ownership.
+
Miranda Kriha
Art Director
Miranda grew up in Nebraska and received her Bachelor's degree in Digital Art and Design from Full Sail University in Florida. She fell in love with the sport when her father taught her how to read the racing form while attending the local Nebraska track at a young age. In 2015, her interest in the industry brought her to Kentucky where she's worked in advertising catering to Thoroughbreds. Miranda joined the Spendthrift team in 2023.
Favorite Racing Memory: Attending Breeders' Cup events to witness the best of the sport contest full cards of outstanding races. And anytime I turned a modest horizontal wager into thousands of dollars
+
Nicole Finch
Marketing & Experience Coordinator
Nicole is from New Orleans, Louisiana and has a Bachelor's of Science in Athletic Training from Southeastern Louisiana University. Nicole grew up around quarter horses but fell in love with Thoroughbred Racing in 2004 with Smarty Jones's Triple Crown bid. She moved to Kentucky in 2015 and after losing her job in 2020 due to the Covid pandemic, Nicole got a job prepping yearlings at a local farm. Since then she has done work for Eaton Sales, My Racehorse, Churchill Downs, & Margaux Farm before coming to Spendthrift in 2022.
Favorite Racing Memory: Watching American Pharoah win the Grand Slam at Keeneland in the 2015 Breeder's Cup Classic.
+
Kendall Wucker
Marketing & Experience Coordinator
Kendall always had an interest in horses growing up, riding in all disciplines and volunteered thousands of hours in horse rescue. She grew up in between Del Mar and Santa Anita racetrack in Southern California and horses like Beholder fueled her passion. For her 16thbirthday, she travelled to Kentucky for the first time and decided to move there 2 years later. She started working with mares and foals, sales prepping horses of all ages, and has been a foaling assistant for 3 years. Kendall was first hired at Spendthrift as a tour guide intern in 2020 and moved to full time in 2023.
Favorite Racing Memory: Skipping school to see Beholder win the 2016 Breeders Cup Distaff, then bribing security with brownies to feed Beholder mints the next morning.
+
Robbie Moreland
Maintenance Manager
Robbie was a cattle and tobacco farmer for 25 years. In 2005 he worked for Adena Springs Farm as the Maintenance Manager until 2017. He moved to Spendthrift in January of 2018.
Favorite Race Horse: My favorite thoroughbred horse is Zenyatta, but my all time favorite horse is an Appaloosa cow horse named Orion.
+
Sherry Sams
IT/Equine Administrator
Sherry started in the Thoroughbred industry in 1984 working for Nelson Bunker Hunt at Bluegrass Farm and stayed there for 6 years. She then moved to work for Robert N. Clay at Three Chimney's Farm where she spent the next 27 years. She left Three Chimney's in March of 2017 and began working for Spendthrift. Over the years Sherry has acted as the IT Administrator, manager of all horse records, billing for boarders, stallions and stud fees, and accounts payable. She has had exposure in just about every aspect of the thoroughbred office. Fun fact: Sherry drove an average of 500 miles a week for 33 years.
Favorite Racing Memory: Watching Carl Nafzger and Ms. Frances Genter at the 1990 Kentucky Derby when Unbridled won.
+
Martin Martinez
Yearling Manager
Martin is a native of Aguscalientes, a small city in Mexico. He attended David Gutierrez Acosta High School followed by college. In 2008 Martin began at Spendthrift as the Assistant Yearling Manager.
Favorite Racing Memory: When Smarty Jones got beat by Birdstone.
+
RJ Rangel
Asst. Yearling Manager
+
Cynthia Long
Accounting
A lifelong resident of Winchester, Cynthia is a proud graduate from the University of Kentucky with a Bachelor of Business Administration – Management degree. She also earned an Associate in Applied Science – Data Processing degree from Lexington Community College. Cynthia has performed various jobs throughout her career which include software programming, bookkeeping, accounts payable, accounts receivable, payroll and employee benefits. She joined Spendthrift Farm in June 2017 as a Staff Accountant.
Favorite Racing Memory: Attending her first Kentucky Derby and betting on the winning horse Ferdinand.
+
Judy Woolfolk
Receptionist
Judy is a native of Lexington. She worked at Shadwell Farm for 15 years as both their receptionist and Accounts Payable and Payroll. Her love for people and her passion for helping them led her to employment with Drayer Physical Therapy where she was Patient Relations/Receptionist. Judy came to Spendthrift in 2013 as the receptionist where she enjoys greeting clients and making them feel welcome.
Favorite Racing Memory: First time I went to Saratoga Race Course and the beauty of the track!
+
Analisa Wagoner
Executive Assistant
Growing up in Lexington, Analisa's first job in the Thoroughbred industry was at Spendthrift Farm. After graduating from UK, she moved south, returning to Lexington in 2003. Since then, she has worked in all different facets of the industry at places such as Bluewater Farm and Sales, the Jockey Club, Gainesway Farm and Calumet Farm. After running an art gallery, and starting a local non-profit to empower women, Analisa is excited to return to Spendthrift Farm, where her thoroughbred career began.
Favorite racing memory: Hard to pick just one, but Seattle Slew's Triple Crown victory definitely makes the list!
+
Seth Semkin
Juvenile Sales Advisor
Grew up in Arizona, and graduated from the University of Arizona with a degree in Agricultural Economics. Began working for Mr. Hughes in 1990 at his lay up facility in California. Moved to Spendthrift Farm in 2014, and became the Yearling Manager. In 2021, Seth became the Juvenile Sales Advisor focusing on yearling sales and 2YO sales.
Favorite Racing Memory: Action This Day winning the Breeders Cup Juvenile.
+