KENTUCKY DERBY Q & A WITH B. WAYNE HUGHES
-the following interview, by Bill Finley, originally appeared in the Sept. 1, 2020 Thoroughbred Daily News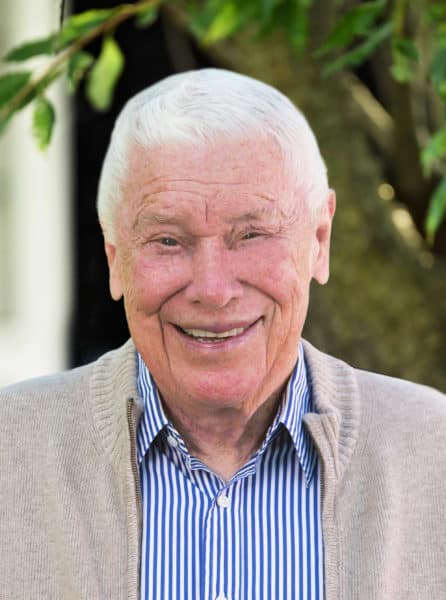 It could be quite a Derby week for Spendthrift Farm and its owner B. Wayne Hughes. Spendthrift has never won a Triple Crown race, but is in solid position in this year's GI Kentucky Derby with two starters it co-owns, Authentic (Into Mischief) and Thousand Words (Pioneerof the Nile). It could also be a huge couple of days for Spendthrift's white-hot stallion, Into Mischief. He will be represented by TDN Rising Star Authentic in the Derby and by the freakishly fast Rising Star Gamine in the GI Kentucky Oaks.
Hughes sat down with the TDN to talk about a number of topics, including his Derby starters, Into Mischief and his relationship with Myracehorse.com, the inventive partnership group that has sold microshares in Authentic and other Spendthrift-owned horses.
TDN: With two strong contenders for the Derby, how do you feel about your chances and what would it mean to you to win your first Kentucky Derby?
BWH: Well, we're up against some very good horses, especially Tiz the Law, so we're going to need some luck. We bought Thousand Words with the Albaughs as a yearling and we've done a number of horses together so that would be great! Authentic represents so much to us, as a son of our sire, Into Mischief, and with all of our partners: Madaket, Starlight and over 4,000 MyRacehorse owners, that would really be special. I fully expect to see MyRacehorse filling up the stands and winner's circles everywhere in the future!
TDN: You weren't involved with Authentic until buying a majority interest just prior to the Santa Anita Derby. What did you like about him that led to the purchase?
BWH: For starters, talent. He has so much natural speed and he impressed us so much with his athletic ability and good looks, as a son of Into Mischief. We felt we just had to have him.
TDN: You have embraced MyRacehorse.com. What did you see in this new venture that made you want to partner with them?
BWH: Declining attendance at our racetracks is a huge issue. I see MyRacehorse as a way to reverse that trend. If they have one horse in nearly every race on a given day and four or five thousand owners in every horse all betting and buying concessions, think about the impact that would have on a track.
TDN: In a way, MyRacehorse seems like the racing version of what you have always tried to do as a breeding farm, and that is to increase the number of people in the tent, particularly to smaller owners and breeders. Why has this been such a passion of yours?
BWH: We need fans and we need breeders. Anything we can do to help open up the industry to both helps all of us. When I started out I had a lot of partners, we were claiming horses, going to the races, betting and having a great time. I want to see everybody have that same opportunity.
TDN: MyRacehorse seems to be growing all the time. What is it's future, and what are its goals?
BWH: The future is unknown and not predictable, not by me anyway. I'd like to hear what you think about our future. All I can tell you is we are not going away and we are optimistic.
TDN: Thanks for the offer, but I'm going to be safe and just stick to asking the questions! You've been with Thousand Words from the start, when he was bought for $1 million at Keeneland September. It seems that you normally don't like to spend that much on a yearling. Why did you go out on a limb on this one?
BWH: He's a beautiful horse with a great pedigree and was on both of our lists. Having a great partner in the Albaughs who were equally optimistic about the horse encouraged us to go a little extra on him.
TDN: With Authentic and Gamine, it could be a big couple of days for Into Mischief. It's hard to imagine his stock could go any higher, but what would an Oaks or Derby win or both mean for him as a sire?
BWH: Into Mischief siring an Oaks or Derby winner, or both, would be an incredible accomplishment. He's named after my deceased son, Parker, so I hope he goes down in history as the greatest sire ever.
TDN: Gamine looks like she could be one of the best ever. Your thoughts on her?
BWH: I think I agree!
TDN: What will it be like for you to not be able to attend the Oaks and Derby and could you comment on how strange this year has been and the job the sport has done navigating through these difficult times?
BWH: Our industry as a whole has done a great job of keeping things operating and keeping people safe. Kevin Flanery and his team at Churchill are doing a tremendous job in a very difficult situation. We're just honored to be a part of it.
TDN: How disappointed were you last year when Omaha Beach had to scratch just prior to the Derby?
BWH: When Richard Mandella made the decision to scratch, I was heartbroken. There is no doubt, however, he did exactly the right thing for the horse and that is what's most important.
TDN: What is it you enjoy most about the sport at this point in your life?
BWH: For starters, just being here at age 86 is a bonus. I've always said this is a great game because you're always looking forward to the next foal, the next 2 year-old, the next stallion prospect, besides, you'd be too afraid to look back. Also, I've worked all of my life. I love to get up every day and get to work and I intend to continue. My goal is to do with MyRacehorse what I've been able to do in the past with some of my other businesses.