Normandy Invasion purchased by Spendthrift, to stand in New York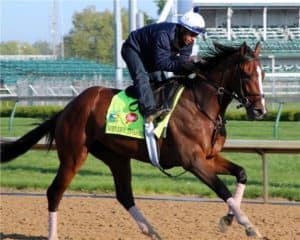 B. Wayne Hughes' Spendthrift Farm has acquired Tapit's Grade 1-performing son Normandy Invasion, who will stand stud in 2016 at Keane Stud in Amenia, NY as a participant in Spendthrift's renowned "Share The Upside" program.
"Normandy Invasion proved he was a top-class talent since his 2-year-old season, and, physically, he's a very attractive horse," said Ned Toffey, general manager at Spendthrift Farm. "We're extremely excited to be able to offer New York breeders such a quality son of Tapit through our 'Share The Upside' program, and we really believe there isn't a better opportunity in the Northeast. We would like to extend an invitation to New York breeders who are in Lexington for next week's sales to stop by our open house and see Normandy Invasion before we ship him to Keane Stud after the sales."
Normandy Invasion will stand for $6,500 on a one-year commitment through the "Share The Upside" program, and breeders will earn a lifetime breeding right beginning in 2017 after having only one live foal and paying the stud fee. Normandy Invasion's one-time fee will be $5,000 on a standard stands-and-nurses contract for people who do not wish to participate in the "Share The Upside" program.
Campaigned by Fox Hill Farm, Normandy Invasion was a leading 2-year-old of his crop, breaking his maiden by 9 ¼ lengths before going on to finish runner-up by a nose in the Remsen S. (G2) at Aqueduct in his next start. He earned a 99 Beyer for the performance, marking the co-highest Beyer earned by a juvenile beyond a mile in 2012. Normandy Invasion closed out his 2-year-old campaign weighted at 118 lbs. on the Experimental Free Handicap, and was among the winter book favorites for the 2013 Kentucky Derby.
At three, Normandy Invasion closed strongly to be the runner-up in the $1 million Wood Memorial (G1) at Aqueduct, finishing the final three-eighths of a mile in 36 1/5 seconds to be three-quarters of a length back from Verrazano. He went on to the Kentucky Derby where he would be the fifth choice in the wagering and finish a good fourth after making a strong middle move to take the lead turning for home. Normandy Invasion was beaten just 3 ½ lengths by Orb and earned another 99 Beyer for the performance.
As a 4-year-old, Normandy Invasion scored a 7 ¾-length victory in his seasonal debut at Gulfstream, running a mile in 1:33 flat. In his subsequent start, he finished second in the $500,000 New Orleans H. (G2) to multiple Grade 1 winner Palace Malice at Fair Grounds, earning a 104 Beyer for the performance.
Trained by Larry Jones, Normandy Invasion retires with earnings of $551,900. He's by champion sire Tapit, and hails from the Boston Harbor mare, Boston Lady.
Normandy Invasion is currently at Spendthrift Farm in Lexington, and will be available for inspection during the farm's open house that runs from Monday, Nov. 2nd through Friday, Nov. 13th at 1-3 pm daily during the November breeding stock sales. Lunch will be served daily.