Spendthrift erects Malibu Moon statue, B. Wayne Hughes Visitors Center to open Nov. 1
Spendthrift Farm has erected its new Malibu Moon memorial statue that will serve as the centerpiece at the front of the B. Wayne Hughes Visitors Center, which is set to officially open on Nov. 1 during Breeders' Cup week.
"The B. Wayne Hughes Visitors Center has really come together, and the addition of the Malibu Moon statue in front is a special highlight that we are all very proud to see go up," said Ned Toffey, Spendthrift General Manager. "We look forward to unveiling the visitors center Breeders' Cup week as part of the celebration surrounding our industry's championship event."
At nearly 1700 pounds, the bronze sculpture of Malibu Moon is scaled at 110% life size and portrays him as the mature breeding stallion he was during his time at the farm. He faces his old paddock in the foreground and old stall at the stallion complex in the background.
"Malibu Moon put the Hughes/Gustavson version of Spendthrift Farm on the map," said Spendthrift owner Eric Gustavson. "He was a consistent leading sire at the time Wayne purchased the farm, and for years following. You could say, as Wayne often did, 'Malibu Moon made Spendthrift Farm'".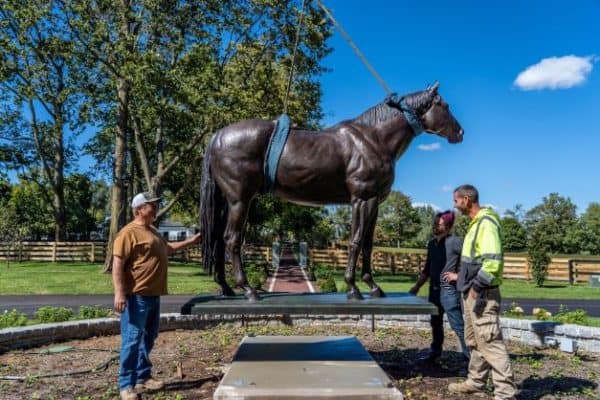 The Malibu Moon statue was sculpted by artist Douwe Blumberg at the foundry in Norman, OK. Blumberg and his team began the year-long project in September of 2021.
"I loved the opportunity to capture Malibu Moon and embrace his power, masculinity, and fiery eye," said Blumberg. "There was an added level of responsibility being trusted to portray the essence of this amazing animal, especially for a farm as legendary as Spendthrift. It wasn't until his long-time groom and manager both agreed that it 'was him' that I felt I had succeeded. He just feels so natural in the space, like he's come home."
"Douwe and his team did a fantastic job in recreating Malibu Moon," said Toffey. "Naturally, it was important to us that there was a strong attention to detail in the making of this piece, and it looks like Malibu Moon could walk off the pedestal and head towards his paddock. It is quite the spectacle."
A foundation stallion for Spendthrift, Malibu Moon was a perennial leading sire in North America for the better part of this century, siring 17 Grade One winners to date including 2013 Kentucky Derby winner Orb, champion two-year-old colt Declan's Moon, among several other top-class millionaires on the racetrack.
The B. Wayne Hughes Visitors Center will serve as Spendthrift's new home for tourism. The 7,000 square-foot, two-story building is located in the heart of the historic farm, interconnecting Spendthrift's stallion complex to the main office. The facility contains a trophy room, a gift shop, outdoor & indoor entertainment space and office space, and it features the farm's collection of prized trophies, artifacts, and other memorabilia on display.